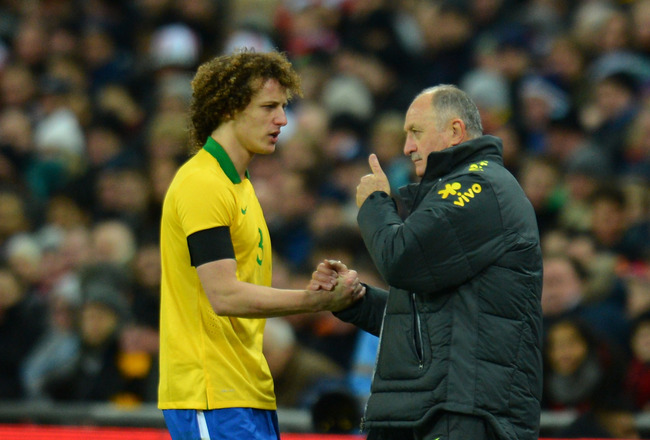 Tournaments are like time speeded up. Teams suddenly come together; others fall apart under the unusual pressures. Players have to react to different circumstances. There is the banal - the simple break in routine as a result of spending so much time away from home. And there is the special - the fact that the occasion might be the biggest a player has ever experienced in his life.
Those old enough to remember the FA Cup Final in its glory days - when the build-up was so big it was practically a tournament in itself - will recall the frequent instances of players going down with cramp. This was usually attributed to the sapping Wembley turf. At least as important was surely the emotional effect of playing a game in such a spotlight.
Poland coach Franciszek Smuda blamed this emotional aspect for his side's disappointing second-half display in the Euro 2012 opener against Greece. His observation makes sense. Tournament hosts 16 years ago, England seemed to be running on empty in the second half of their Euro 96 debut against Switzerland. In the course of the competition, Terry Venables' men showed they were capable of far better.
But even in comparison with Poland now and England in 1996, the pressure on the next World Cup hosts will be far greater. I doubt that any team in major tournament history has had to cope with the burden of expectations that Brazil will be carrying in 2014.
England have won the World Cup at home, as have France, Germany and Italy, Uruguay and Argentina. Brazil have not. They came close in 1950, only needing a draw in the last game against Uruguay. They had a hand and a half on the title when they went a goal up early in the second half, but the Uruguayans hit back to win 2-1.
At that point it mattered not a jot that Brazil had won their previous games 7-1 and 6-1. There was no longer any relevance in the statements by Brazilian dignitaries on the pitch before the game to the effect that Brazil could already consider themselves world champions - or that the players, in their capacity as 'world champions', had already been presented with lifetime free entry to the cinema. All that mattered was that they had lost.
I was lucky enough to know Flavio Costa, coach of that team, and Zizinho and Jair Rosa Pinto, his magnificent inside forwards. They went to the grave unable to forget that game, resenting the fact that for all their glorious careers and many victories, that one defeat always seemed to weigh more.
True, in 1950 there was extra pressure because Brazil had yet to win a World Cup - not a problem that the 2014 generation will face. Their challenge is another - to live up to the feats of their country's five World Cup-winning teams, and to do it in front of their own people. And in 1950 there were only around 50 million of their compatriots demanding nothing less than victory. In 2014 there will be four times that number, pumped up by the ceaseless babble of a 24/7 media that did not exist the previous time the circus came to town.
Brazil's 2014 team are guaranteed a kind of immortality in their country's consciousness: events in two years' time will define which kind. It is a daunting task. And one concern must surely be the possibility that some of the players will not be emotionally strong enough to cope. There is a strain of petulance in contemporary Brazilian football that could prove highly problematic in 2014.
Last time round in South Africa, coach Dunga was increasingly looking out of his emotional depth. In the fateful quarter-final against Holland as he raged and fumed on the touchline, banging his hand in frustration against the substitutes' dug-out, midfielder Felipe Melo stamped in with a crude tackle and got himself sent off - to the surprise of absolutely no-one back home. He had been seen as a red card waiting to happen.
The current side, though, have an even more obvious candidate. Left-back Marcelo of Real Madrid is a highly talented player, but current Brazil coach Mano Menezes must surely be considering if it is worth the risk of persevering with him.
A couple of weeks ago on Brazilian TV (I am a tiny part of that 24/7 ceaseless babble), I argued that Marcelo's temperament was a cause for concern. Subsequent evidence has borne me out. I saw it as far back as the Under-17 World Cup in 2005. He was sent off twice, both times unable to deal with the fact that Brazil were losing. He does not seem to have matured enough since then. He was recalled to the national team last October for a friendly against Mexico, when Menezes was prowling the touchline trying to calm him down. He could - perhaps should - have been sent off in another friendly against the same opponents just over a week ago and had tried the referee's patience in a comfortable win over the USA a few days earlier.
On Saturday against Argentina he was much better - until Lionel Messi's magnificent late winning goal, which began with a stunning dribble round Brazil's left-back. In stoppage time, with Brazil facing defeat - a situation that always seems to bring the worst out of him - Marcelo got caught in a flare-up with Ezequiel Lavezzi and got sent off . If Marcelo is unable to cope with friendlies, then how on earth will he deal with the pressure of the real thing in 2014? The best left-back in the world is no use trudging to the changing rooms when his team need him most. To play for the next World Cup hosts, only the emotionally reliable need apply.